Gideon Is Armed and Trained to Protect You!
To keep your family safe and your household functioning smoothly, you want to make sure the pipes that carry the water you use for drinking, cooking and washing are completely protected from the pipes that carry dirty, used water out of your home. When pipes carrying contaminated water or sewage come in contact with pipes carrying your clean water supply, this is called cross connection. It can happen when installers don't take the proper precautions when hooking up tubs, showers, sinks and appliances that use water.
At Gideon, we painstakingly make sure your wastewater will not enter and contaminate your clean water. We have decades of experience protecting families in Victoria, BC, Duncan, BC, and surrounding areas through our cross connection plumbing installation, testing and repair efforts.
There are numerous places throughout your home where cross connections can occur. For instance: If your laundry tub's faucet is below the top of the tub with the faucet entering the tub through the wall, the faucet can become submerged when the tub is filled. If this happens, wastewater in the tub could back up into your clean water through the faucet when the supply piping is being drained.
Confused? Don't worry. These problems are not confusing to us. We're the experts you need to identify these issues and fix them—fast. Cross connection plumbing is a major health hazard because the dirty water leaving your home often contains sewage, bacteria and other harmful materials.
The answer to the laundry tub cross connection plumbing problem is to raise the faucet higher than the top of the tub or basin, creating an air gap between the water in the tub and the faucet. This is just one of the many backflow prevention steps our skilled and experienced plumbers can take to protect your home.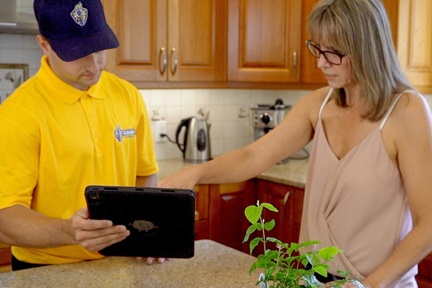 Here are other places in your home where cross connection plumbing problems can occur:
Bathtubs
Showers
Bathroom sinks
Bidets
Kitchen sinks
Dishwashers
Washing machines
Water softeners
Water heaters
Boilers
Sump pumps
At Gideon, we will always give your plumbing the time and attention it deserves to avoid cross connection plumbing problems during our meticulous installations. Once we've installed your plumbing, we'll perform thorough testing to make sure we've gotten everything just right. Backflow prevention is a No. 1 priority with us. And, when you need us, we're the team to call for any cross connection plumbing repairs when you suspect there are issues.
Our other outstanding plumbing services include:
Attention, Homeowners in Victoria, BC, Duncan, BC, and Nearby!
Keep your potable water safe from wastewater contamination! Just call the team at Gideon and we will make sure cross connection plumbing dangers are not lurking in your home. Call us at 778.722.2374 or contact us through our website!