Will Keep You in Hot Water—And That's a Good Thing!
Your water heater is an important member of your household. When it goes on the fritz, it can send those in your family into a tailspin. You need your water heater to function smoothly and reliably for hot showers and baths, clean clothes, spotless dishes and more.
When you need a meticulous water heater installation, reliable repair or trusted maintenance, call the gladiators at Gideon. We'll protect your water heater from everything life in a busy household throws at it.
Is it time to repair your water heater? Here are some warning signs:
It's raising a racket. Some noise is normal. But popping, rumbling and crackling sounds are not normal. If your water heater is unusually noisy, it's trying to tell you something—that it's time for a thorough inspection by a professional, licensed plumber like Gideon.
It's been a member of your household for a decade or more. The average lifespan of a water heater is 8 to 14 years. If your water heater is 6 years old or older, it's time to give us a call. We will expertly tackle any necessary repairs or give you an honest assessment of whether it's time to replace your water heater.
It's not getting the job done. If your supply of hot water isn't as reliable as it once was, your water heater probably needs to be repaired or replaced.
It's leaking. This is a clear sign that something is wrong. First, check the connections, fittings and temperature pressure relief valve. If everything seems fine, give Gideon a call to pinpoint the problem.
Your water is discolored, tastes strange or smells weird. These are all warning signs that something has gone awry with your water heater.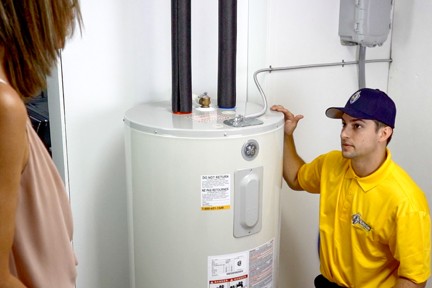 Our Water Heater Installations Are Battle-Tested Winners
At Gideon, our mission is to provide you with a reliable repair for your water heater over a more costly replacement whenever possible. We're here to serve you—not take advantage of you! We will never use those pushy sales tactics that some companies use. That's why you can believe us when we tell you it's time to retire your old system.
At Gideon, we use our decades of experience to provide you with a seamless water heater installation or replacement. We'll help you determine the right make and model for you, keeping in mind the size of your family, your hot water needs and your budget.
Maintenance Is a Valuable Weapon
Have you heard about the Gideon Family Partner Plan? Our annual maintenance plan is a sure-fire way to keep your gas or electric water heater operating as reliably and efficiently as possible for years to come. We offer three different choices to meet your budget and service needs.
Our other outstanding plumbing services include:
Trust Gideon for Reliable, Affordable Water Heater Services!
We will claim victory over all of your water heater challenges, including installation, replacement, repair and maintenance. Call us at 778.488.8664 or contact us through our website!